Cub Uniform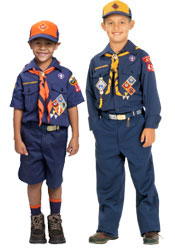 We use school uniform pants.

This is a picture of the basic uniform. The boy on the left is wearing the Tiger hat, neckerchief, slide & paw print award tracker.

Wolf and Bear uniforms are similar but have their own patches and neckerchief.

The shirt carries over for 3 years so it is ok to buy it a little large so there is room to grow into it.

We are Pack 67 of the Shawnee District in the Lincoln Heritage Council.

The numbers are sold separately (you will need 6 & 7).

We generally do not use den numbers. You will be notified if it is needed.

We currently use the school uniform pants & shorts.

The web belt is reusable as the buckle can be bought separately & updated each year.

The Tiger Totem Beads & Paw Print will be awarded by the Den leader so do not purchase this.

The USA flag comes on the shirt when purchased.

<![if !vml]> <![endif]>

When you purchase uniform the Scout Shop should have on hand a sheet that shows placement location of Pack numbers,

Rank badge, etc.

You will need to purchase:

__ Shirt,

__ Number 6 patch,

__ Number 7 patch,

__ Lincoln Heritage patch,

__ Tiger, Wolf or Bear book.

Optional is:

__ hat,

__ neckerchief,

__ slide.

Also optional is the belt __and buckle __.

The belt is great for holding belt loops that the boys can earn for academic and sport activities.

They are metal and have an image depicting the type of achievement the boy has earned.

Astronomy Belt Loop